Over the past few years, the use of web applications has increased dramatically. The developers sought a platform that was advanced and flexible enough to develop a variety of web applications. Due to the ability to build intelligent and scalable server-side network applications, NodeJs frameworks have become the first choice of developers.
NodeJs is also an environment for running JavaScript. So many developers have written frameworks for Node.js and we are going to see which ones are among the most popular.
1. Express

Express tops the list of the best Node.js frameworks. Its minimalist approach makes it a classic and straightforward tool for coding. Released in 2010 under license from MIT, it is considered the "de facto" standard for NodeJS.
A basic understanding of the NodeJS environment and programming skills is sufficient, the learning curve is close to zero.
Its fast, robust and asynchronous architecture pairs well with Node: Express indeed aligns with high-speed I / O operations and the single-wire nature of Node.
A robust application user interface (API) further enables a more streamlined form of client-server requests and visible user interactions.
Improving communication between client and server provides a pleasant experience for a web or mobile user. No wonder companies like Twitter or Uber are rolling out apps built with Express.
2. Koa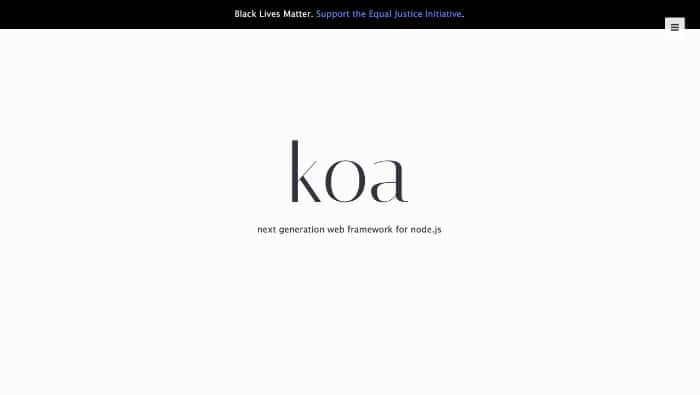 Here is another of the most popular Node.js frameworks. With Koa, API creation becomes easy since it can efficiently process HTTP middleware with a "stack" type method.
In addition, it normalizes the defects of the nodes in a constructive way. You can maintain different forms of content, presented to users with the same URL (like translating a page ).
Another advantage of using Koa is that it is quite similar to Express. So you can take advantage of the flexibility of Express while having more freedom and fewer complexities in writing your code. This minimizes the number of potential errors across the entire application stack.
3. Meteor
If you're looking for a JavaScript-specific framework that only uses one language, Meteor.js is for you.
The Meteor start-up developed Meteor.js in 2012. It is an isomorphic open-source JavaScript web framework. It propagates automatic data changes to clients, effortlessly for developers. Best of all, it is compatible with a number of operating systems such as Android and iOS for mobile devices, and desktop applications. All of this, therefore, in a single language: Javascript.
Meteor has extensive libraries and test functions to track client-server communication. The framework is known for its efficiency in moving data back and forth between client and server, which is necessary for the proper functioning of applications offering real-time functionality.
4. Socket.io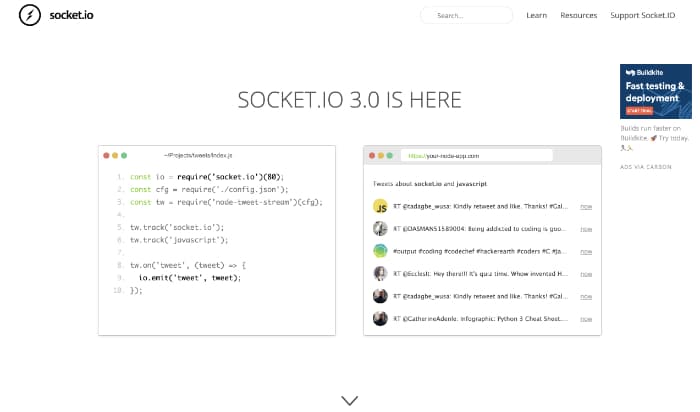 While all of these real-time apps are connected and have the essential feature of updating responses and requests in real-time, we need Socket.io to configure this functionality.
Socket.io is a JavaScript library used to create real-time applications and establish two-way communication between web servers and clients. With this framework, you can develop applications requiring the WebSocket protocol.
For example, chat apps run continuously and refresh the background process to update messages.
5. Loopback
Modern applications often go hand in hand with complex integration. LoopBack is known to be a very extensible framework. It is an open-source framework for building dynamic REST APIs with minimal coding knowledge. It's simple, easy, and everything you can dream of.
Flexible, Loopback can connect to a large number of devices, browsers, databases and services. Its structured code allows maintaining the application modules and a high speed of development.
6. Total.Js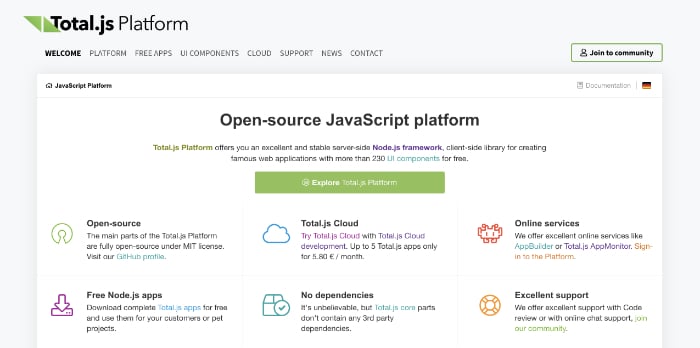 Total.js provides fast, robust and stable service. Its great flexibility makes it suitable for building IoT applications as well as for web and desktop applications.
Total.Js is compatible with several database systems (MySQL, MongoDB, PostgreSQL) as well as with several front systems:
Its modular architecture includes some exclusive features such as an image processing tool or SMTP.
The framework is available in different versions, such as Eshop, CMS and HelpDesk. Thanks to these variants, your application will have a wide scope, for example for integrations to the Internet of Things, with low maintenance costs and stable service.